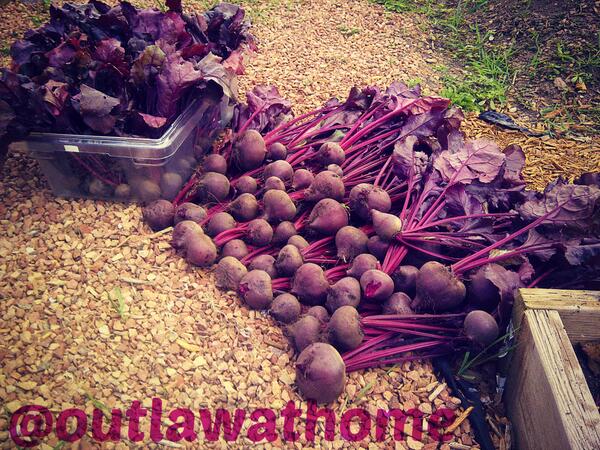 I've been harvesting piles of beets for weeks now!   This was just one row in one of many raised beds 🙂
With bushel-baskets full of beets, I have to get really creative with recipes, preserves and fresh ideas so that I don't get tired of them – beets are a key staple in my diet at this time of year!  This new recipe I'm trying is actually, funny enough, a condiment:
Pickling Liquid – Place the following ingredients into 1.5 cups of water  bring to a boil over medium heat, stirring until sugar dissolves. Remove from heat, and let cool.
1 cup unrefined sugar
1/2 cup white-wine
(or white-wine vinegar)
1 small onion, thickly sliced
5 (pink) peppercorns
1 bay leaf
Beets – Put beets into 2Lof water, add bay leaves and horseradish. Bring to a boil, and cook until beets are tender when pierced, but still firm, 45 minutes to 1 hour. Drain. When cool enough to handle but still warm, peel and shred with large grater.  Peel and shred horseradish with same grater.
4 medium beets, trimmed and scrubbed
2 bay leaves
1 piece (3 inches) fresh horseradish, peeled
Transfer shredded beets and horseradish to a glass mason jar with a rubber seal, and pour pickling liquid over them. Cover, and refrigerate at least 2 days and up to 1 week before serving.   For added bite add a tablespoon at a time of a good quality horseradish sauce.  For less kick substitute parsnips for the horseradish.